At some point in our lives, we are each going to come face-to-face with our maker. This is especially frightening in Tom Cruise's case, since his "maker" is intergalactic space-pirate "
Lord Xenu
." Regardless, that security-blanket you call a "
religion
" can't protect you from physical death, no matter how increasingly painful and horrific those deaths become as I list them in quasi-alphabetical order: Instant fecal-hemmoraging; diabetes of the genitals; innumerable stab-wounds (to the face); the first/any season of: The Apprentice; Grey's Anatomy; House; and finally, "
Grey and his gay lover's anatomy don't allow for a biological offspring."
Despite your best efforts, organ failure is often irreversible, which is sort of humanity's way to say, "
Hey God, F-You! Your "complicated" universe can't even re-animate my internal organs...oh shit, how can I be alive talking if...crap, I'm in Hell, aren't I? Well, at least I don't have to listen to "Christian Rock" anymore!"
To make a long story short, here are my FAVORITE examples/proof of a Godless, meaningless universe!!!
Looks like "
Mother Nature
" disciplined this pair of blood filtration devices!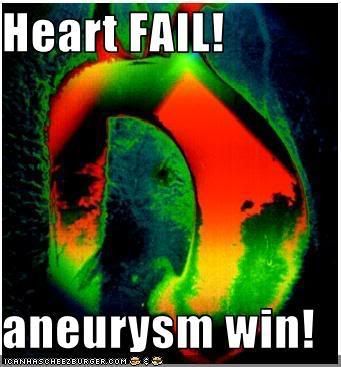 "
An image of a human heart undergoing angiography to repair a massive aneurysm of the aortal arch.
" Well, there isn't anything more to say, is there?

Humanity

:

1

Nature

:

1

God

:

0

!!!
Well, that's all for now. For more, please put on a white doctor's coat with the word "Doctor" followed by "Your Name" and visit your nearest Emergency Room!