A "day in the life" of Ann Coulter...scary.
Ann Coulter
. Who or what is
Ann Coulter
, other than the first thing that comes to mind when you think of 9/11, dead babies and Nazis simultaneously? As a "
Conservative
" and "
columnist
", Coulter continues to falsely depict
ALL
Republicans as
angry, insane and illogical beings
who use
fear mongering, insults and baseless conspiracy theories
to support their beliefs instead of providing
reliable evidence
(
of which there is usually none
). I understand that this may a lot of information to take in, so in the text below, I have translated this well thought out and properly cited analysis into a baseless, emotionally charged and metaphorical rant for you, my "
Thinking Impaired
" readers
(i.e., average Americans)
.
No additional joke required; this is an actual book devoted to hating Ann Coulter...Awesome!
Washington D.C., USA
- Ann Coulter's vagina. That's about the worst thing anyone could possibly imagine. Logically, then, 9/11, dead babies and Nazi's should be at least somewhat related to Ann Coulter's vagina, but could they be fundamentally linked? To the surprise of many,
a recent gyneclolgical study
has found that 9/11, dead babies, Nazis not only exist WITHIN Ann Coulter's vagina, but may have in fact been CREATED there!
First Contact: In Ann Coulter's vagina, researches discover the first of many demonic creatres once thought
to be fictional characters of ancient folk-lore
Scientists became interested in the "
UnIntelligent Design
" theory regarding the creation of 9/11, Nazis and dead babies after Ann Coulter submitted a series of deliberately absurd, offensive and callous contributions to American political debate.
Particularly intriguing was Coulter's attack on widows of those killed in the 9/11 terrorist attacks, "
I've never seen people enjoying their husbands' deaths so much,
" said Coulter, "
How do we know their husbands werne't planning to divorce these harpies?
"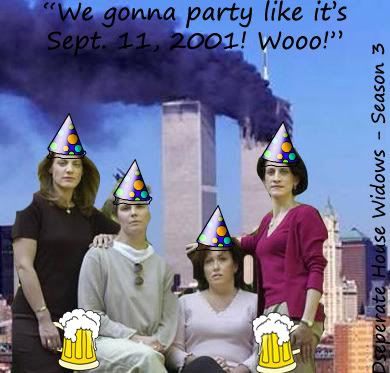 CNN through the eyes of Ann Coulter
"
The truth is, we don't know
," said Head Researcher Gilbert Flagram, "
but the catch 22 is that the husbands in question are dead, thereby impossible to interview. Though possible, there is not a single shred of evidence nor absolutely any reason whatsoever to believe that their marriages were anything less than healthy.
" Flagram explained that to create such a random and baseless rumor about widows of the single most deadly terrorist act in U.S. history requires more than huge BALLS (
which are themselves rumored to also exist within Coulter's vagina
). That's when researches decided to test the theory of whether in fact "
evil incarnate
" was itself birthed through the wretched vaginal walls of Ann Coulter.
Actual "Vortex-of-Pure-Evil" discovered in the Nether-regions of Ann Coulter